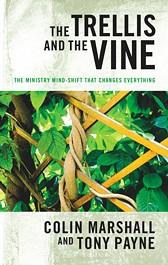 Last year I read a book that impacted me greatly as a pastor and ministry leader. The book helped to articulate for me some questions and thoughts I had been having for a while. These weren't just musings related to pastoral ministry, but to the life and ministry of every believing Christian.
Our purpose as Christians is profoundly simple, yet the western church is guilty in many cases of creating a very convoluted presentation of what the Church is suposed to be and do. We are all called to make "disciple making" disciples. We have all be given a very great commission.
Tensions between church growth and discipleship, missiology and ecclesiology, the attractive model and incarnational model, exist everywhere and are arguably healthy. Theses tensions have sparked many a lively debate in our staff meetings, conferences, and elephant rooms.
The Trellis and The Vine, published by Matthias Media, was for me a book that hit the nail right on the head. It can help to guard us from falling off the horse in any of the areas listed above in one way or another. When you stay on the horse you actually get somewhere!
I plan to share some of the book's ideas and my own commentary of them in the coming days and weeks. Look under the category book reading to find all the posts in one place.
More ahead…