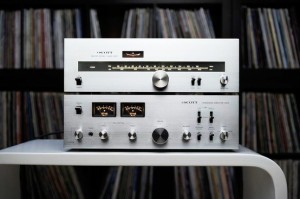 My Monday Mix
This will be my third Monday Mix post. I basically do a round-up of the current events of my life, and some other random things that I've been either reading or listening to.
In this post, I'll primarily focus on some music I'd suggest you check out, and let you in on some future plans I have for this year.
My Recent Jams
As far as music, I've had a lot of new tunes in the mix. We upgraded to Spotify Premium recently, for reasons I might go into later in a different post, and the new music has been flowing fresh lately.
Here's what we've been listening to:
If you want some interesting background music, this guy is amazing. I'm a big electronic music fan, and this guy has quite an awesome sound. He originally wrote and recorded Light Through Veins, which was used in the song Life in Technicolor on Coldplay's album Viva La Vida.
I don't like every song she does, but the ones I do like could be on repeat for days. She has such an innovative voice and sound. It's a bit like Bjork, Imogen Heap, and Cyndi Lauper decided to get together and start a band.
I literally found out about this dude last Friday. Really interesting voice and a great sound that's current, yet pushing forward. He's actually a Greensboro native too from what I've heard. I may even be doing a gig with him soon…
I also just found out about Capital Kings. They're rising in the CCM world and have an energetic electronic sound which is always cool to me. Not quite sure what I think about the songs themselves though. I may do a review on them at some point. Their self-titled debut album, Capital Kings, just released at the beginning of the year.
This is a dear friend of ours who recently came out with his debut EP. We're totally into it. He's got a refreshingly distinct indie sound that's light-hearted and great for long trips in the car. I'm not just saying this because he's my friend; I really dig his music regardless.
Check 'em out!
In Other News
To keep this edition of Monday Mix going, I thought I'd fill you in on some important, behind the scenes plans for 2013…
At some point this year, most likely by this summer, you will see a big change to the blog.
Lord willing, if all goes according to plan, I'll be changing the domain name and honing in on a more focused topic for the blog. Namely: A blog dedicated to encouraging people of faith in their musical journey, whether it's their own original music, or it's just how they perceive music in general.
In other words, I'm going to talk more specifically about music. Not just my music, but music broadly defined – music in the church, and music in the marketplace; music that is bad, and music that is good; the meaning of music, and the how-tos of music.
We'll get highly philosophical and we'll get highly practical.
I've been going back through a favorite of mine: Music Through The Eyes of Faith by Harold Best. It's such an inspiring book that helps to answer questions like, "What is Christian music?" or "What is creativity?"
I've been inspired by it again, and I'm hoping to get more focused on these matters here at the blog. I've been slowly working towards that over the last two years, but I'm thinking it's time to go to the next level.
So what can you expect?
More posts that are practical and relevant to musicians, songwriters, and creative people. More album reviews, and more interviews with other artists. More music from yours truly, and, God willing, simply more content that adds value to you, the musical reader.
Stand by…
I'll leave you with this little Jon Hopkins, Coldplay mash-up…