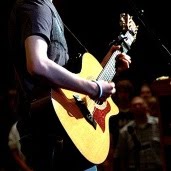 This morning was fun. I actually didn't lead worship today, but preached instead. I spoke this morning out of 1 Corinthians 15:1-4. I spoke about genuine gospel-centrality.
Gospel centeredness has been quite the buzz over the last few years. Especially in the young-reformed contingency. I spoke on the dangers of being gospel centered in a way that actually misses the point entirely.
The gospel brings us to God (1 Peter 3:18). It brings us into his presence and leads us into true worship (Romans 12:1). I simply asked the question, "Is His grace still amazing?" Does our gospel-centeredness make us more humble? Does it produce the fruit of the spirit in our lives?
You can listen to the sermon here.
Here are the songs the team did this morning.
Sing To The King (Foote)
Your Name Alone Can Save (Jones / Sczebel)
Stronger (Fielding / Morgan)
The Precious Blood (Gagnon)