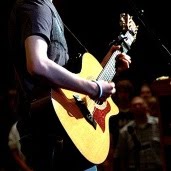 Here's what we did this morning at LWC…
Last week we bought back Enough by Tomlin and it just seems to be where we currently are as a congregation.
We're making our way through the book of Hebrews (listen to the series) and it's been all about trusting in Jesus alone, looking to him as the author and perfecter of our faith.
He is better. He is more than enough…
We also brought back one of my oldies Hallelujah Praise The Lord. I've recently been convicted that as a songwriter, I need to be fostering my creativity to serve my unique local church.
This doesn't mean that every worship leader needs to be a songwriter. It's just important that the local church is being built up by the creative people who are members of it – in new and original ways.
The church is meant to be a unique expression of the multi-faceted body of Christ in the world. Don't simply be a copy of the latest trend or growing movement that pops up in Christianity Today.
The list…
Nothing But The Blood (Boswell version) – [YouTube]
Enough (Tomlin) – [YouTube]
Christ Is Risen (Maher) – [YouTube]
We Are Hungry (Fee) – [YouTube]
Hallelujah Praise The Lord (Fancher) – [Bandcamp]