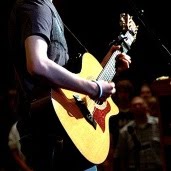 It is always such a privilege to lead our church in singing songs, hymns, and spiritual songs. Of course worship leading has been a big part of my life for many years.
I'll never forget my dad coming back home from a ministry trip to England in '94 bringing with him a little six song cassette called The Red Tape.
This group, called The Cutting Edge Band at the time, had come across my screen at a formative moment in my life. God had just started to get ahold of me as a young fella and I started playing some guitar here and there.
Guys like Rich Mullins and Kevin Prosch were already having a big influence on me and these guys from Littlehampton were also greatly used by God in my life. I didn't look back.
These dudes loved God and enjoyed making music about Him. I wanted to do the same. The idea of being an architect some day was quickly forgotten.
I started leading worship and writing songs at our church for our youth group and the rest was history. I was in the 8th grade.
Several years have passed since then and I've grown in other ways. Ways that have more seriously influenced my ministry and musicianship. Many important things weren't really on my radar then. But that's what happens as you grow up… and I'm still growing.
Here is our song list from yesterday's worship service.
All Because of Jesus (Fee) [YouTube]
Glorious (Paul Baloche) [YouTube]
How Marvelous (HYMN – Charles H. Gabriel) [YouTube]
Praise You (Martyn Lazelle) [Chart]
Worthy (Matt Redman) [YouTube]