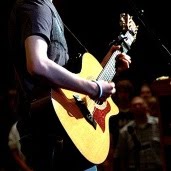 This morning at LWC we were in a very sobering section of scripture (Hebrews 10:26-31). Listen to the full sermon here.
My song selection was actually changed this morning as I was reading through it. I felt like we needed a "prayer song". A "prayer song" would be what I call the type of song that is a prayer to God – usually one asking for more grace to live for the Lord.
An example would be a song like Come Thou Fount of Every Blessing. Here's a song marked by a heart that longs for God to do the sovereign work of grace in our lives that keeps us persevering.
I was also excited to do for the second time a new song written by Matt Papa and Matt Boswell called How Rich a Treasure We Possess. It's a lyrically rich song with an upbeat tone (a rare combo these days) and it has a simple tag at the end that's easy to sing and great for declaring truth: Yours is the kingdom and the power and the glory…
How Rich A Treasure We Possess (Papa/Boswell)
Glorious (Paul Baloche)
Stronger (Morgan/Fielding)
Jesus Messiah (Chris Tomlin)
Come Thou Fount (hymn – Robinson /Wyeth)