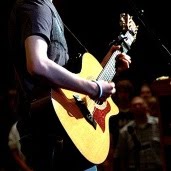 Well happy Labor Day!
As I've said before we keep our methods for choosing songs pretty simple. I used to over think my song selection, going to great lengths to make sure that we weren't "missing God".
Not to say that there are never bad choices on what songs you should do. It's important to choose the best songs you can.
Especially when you may only have 20 minutes or so. There's no time to waste for sure, but we shouldn't over spiritualize it.
We started off our service yesterday with a newer version of Doxology by Gateway Church. It's great because it keeps the traditional melody and verse while adding two additional verses and a contemporary refrain.
Not sure if I would compare their style to the "Hip Hymnody" of folks like Sojourn or Red Mountain Music, but it's contemporary and very intuitive for a congregation to sing to. Though it may be a little slow as an opener, it definitely sets a solid tone of praise to God.
We then followed it up with some more "up-beat" stuff.
Here was out list…. Please forgive some of the cheezy YouTube videos. You know – powerpoint slide show with dated art of waterfalls and angels…
New Doxology – Gateway Worship – [YouTube]
Glories of Calvary – Sovereign Grace Music – [YouTube]
We Are Hungry – Brad Kilman – [YouTube]
Your Love O Lord – Third Day – [YouTube]
Counting on Your Name – Tim Hughes – [YouTube]